About & Contact Us
About Us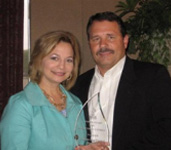 Katey and Dennis
Owner, Dennis Fink, has provided quality residential and commercial pest control services in the Brazos Valley for over 28 years. After several years of service as a technician in the '80s, Dennis became a service manager and maintained that position for many years. In October of 2002, Dennis started 1-Above Pest Control Services with the goal of making quality customer service a top priority. Today, 8 years later, Dennis and his wife, Katey own and operate 1-Above Pest Control Services and strive at being "1-ABOVE In Service" for our customers.
"We thoroughly enjoy our customers and getting to know them and their families. It is very important to us that we provide them with the best service possible! The difference with 1-Above Pest Control Services, IS THE SERVICE! When choosing a pest control company, we hope you will give us the opportunity to take care of all your pest control needs."
The Finks have lived in College Station for almost 30 years. Dennis and Katey have two sons, Connor (age 16) and Carson (age 12). They enjoy a very active life with involvement in sports and Christ United Methodist Church.
Contact Us
Additional Contact Information
1-Above Pest Control
Office Phone: 979-696-5818