1-Above Pest Control Services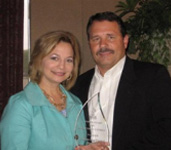 Katey and Dennis
1-Above Pest Control Services represents 28 years of pest control experience that Dennis Fink, the owner, has provided in the Brazos Valley. Dennis has many loyal customers who have benefitted from his experience and some he has serviced for over 20 years! Quality customer service isn't just available on the first service. It is provided with each and every service! Being 1-ABOVE IN SERVICE is what
1-Above Pest Control Services strives for with every service we offer.

1-Above Pest Control has been awarded the 2011 Better Business Bureau Torch Award for marketplace ethics in the small business category in the B/CS area!
Read More...